I just came back from San Francisco for Thanksgiving and I must say that I was rather impressed by SF's food scene. Maybe I'm just too deprived of great Asian and seafood options in the Midwest but I am very happy with what I tried out there. It was also just wonderful to catch up with my cousins and be with (somewhat) like-minded people in terms of food. Most of my friends just don't understand why I am so passionate about something they consider to be a mere necessity. I personally believe the enjoyment of food with all the senses is a daily joy and is something to look forward to. So anyway, we tried many different places but I'm not going to bombard you with too much in too little time. I'm going to recount our culinary adventure little by little.
I'm going to start out with the best places we went to so that if I got tired of writing about the trip, you would only miss out the places that weren't so great. Yay! So the best joint that we went to is Swan Oyster depot. It's a hole-in-the-wall kind of place that serves some of the freshest seafood I've ever had. I first saw it on Rachael Ray's "$40 A Day" and my interest was piqued. It is also the place that many chefs cite as not to be missed when in SF when I was reading issues of Gourmet magazine. Swan Oyster Depot is a very small place, it fits approximately 12-15 customers at the bar. My cousin, Jessy, and I waited in line for a little under an hour and we both thought it was totally worth it!
Besides being a restaurant, Swan Oyster Depot also sells fresh, raw wholesale seafood to those who want to cook their own seafood at home. We saw some of the biggest and juiciest-looking scallops but unfortunately, they weren't on the menu (unless we wanted to have them sushi style). We started with a half dozen fresh oysters that our server recommended. There were six different varieties and we thought we'd try them all. All of them were super fresh and awesome! Each had a different taste and mouth feel to it and they were all very well-shucked. Topped with a small dab of cocktail sauce and horseradish, the oysters were heaven on a shell!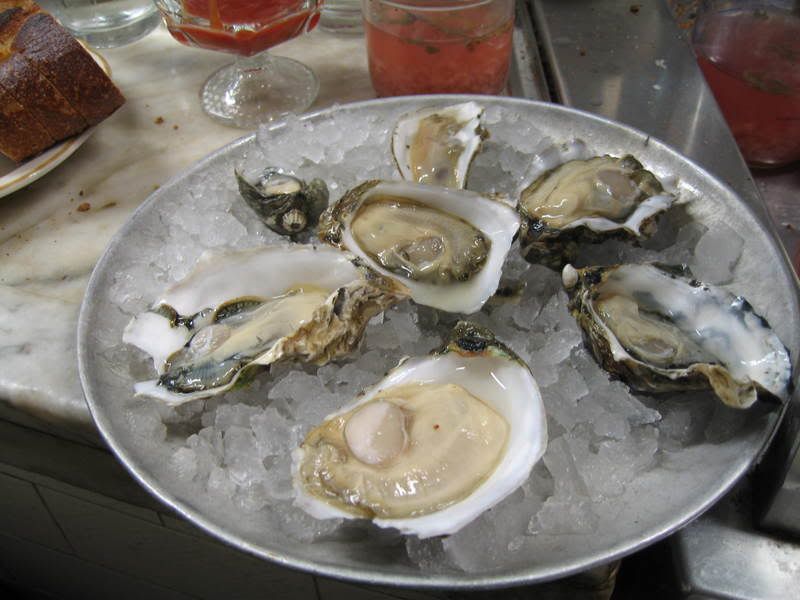 The other items we had were lobster and crab cocktails. When our first cocktail came, it was already mixed up with cocktail sauce and we thought that it would be served with the sauce on the side so we asked our server if we could have ours on the side and he obliged immediately. Now is that great service or what? So he went ahead and cracked open a new, freshly boiled lobster and collected the meat for us with the sauce on the side. The crab and lobster were tender and tasted so fresh that I almost cried. The bar that all the customers were seated at was very intimate in that we get to essentially witness the food preparation. There was a huge slab of smoked salmon in front of us and we weren't sure what it was and so we asked about what it was. The proprietor gave us each two slices of the smoked salmons and that's how I had the best smoked salmon ever! Not only was it perfectly smoked, it tasted fresh and didn't smell fishy at all. Its pure salmon taste filled my mouth and I felt like it melted in my mouth.
I am so happy that I found and ate at Swan Oyster Depot. Like many others, I think Swan Oyster Depot is that place not to be missed when in SF. Not only is the service friendly and warm, we were made to feel like we were just visiting a friend's place (a friend who happened to be a fisherman). Even though it's on the pricey side and we had to wait in line to eat, the fresh seafood was totally worth it!
The second awesome place we went to was this small bakery in Chinatown that sells the usual slew of Chinese pastries. My cousin, Jessy and I went there the morning we were departing SF for a small breakfast. Prior to the bakery we had already visited another Chinatown eatery for the famous leaf-wrapped steamed glutinous rice (for lunch on the plane) and shiu may (part of Jessy's breakfast). At the bakery I ordered my two all-time favorite Chinese pastries: egg tart and paper-wrapped steamed chiffon cake. Jessy had a custard filled bun that was topped with a layer of sweet cookie.
The egg tart I had was the very best egg tart I have ever had. The puff pastry crust was rich, buttery and melted in my mouth. The egg custard filling was even better! It is not too sweet and has the perfect texture. The filling was like the creme of creme brulees that one can get at top notch restaurants, not too creamy yet not too solid. If only I had bought more to bring home to Chicago...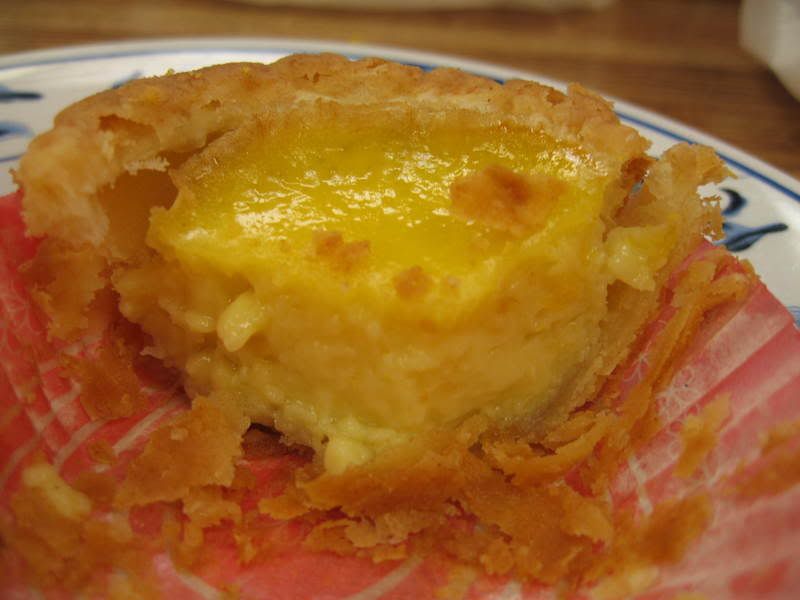 Jessy's custard bun was also delicious. I had a bite of it and really loved the crispy cookie crust that topped off the bun. Its custard filling was a tad sweet but the bread was soft and pillowy, and the cookie crust was perfectly baked. Eaten with a piping hot cup of tea, this is the breakfast for (Chinese) champions!
The paper-wrapped steamed cake was also very good. I like that it was only slightly sweet and its faint vanilla aroma was just nice. Its texture was very light, even lighter and fluffier than an angel food cake. The shiu may that Jessy bought were also delicious. They were packed with meaty goodness and so much flavor. Dipped in some soy sauce, it was even better and provided some protein for our breakfast.
So these were the two top places (I think) that we had the fortune to eat at. They are definitely places I will return to when I visit SF in the future. I find that the SF culinary scene is alive and bustling with a lot of excitement, whether it is a good old American seafood or a quintessential Chinese meal.