The arctic weather has frozen Chicago solid and it's way too cold to do anything but to stay in and snuggle in my blanket while watching an unhealthy dose of TV. Besides the addictive "Law & Order: Criminal Intent" marathon, I managed to rustle the boyf out of our comfortably warm cocoon to shop for groceries on Saturday and we had steak and a bottle of wine at home. It was one of the best steak dinners I've ever had and it was well worth the money! (Yah, I'm cheap, I know, I know!)
Anyway, back to more of my SF Thanksgiving adventure with my fellow cousins! We went to the restaurant Citizen Cake for lunch on the day after Thanksgiving. We were really excited about it because we had heard a lot about this place (whether it's on the all-pervasive TV or magazines or word-of-mouth). It is a place known for its individual-sized cakes and pastries. After a whole morning of shopping (we got our asses off the bed at 6 am, in an attempt to scout out post-Thanksgiving deals), we were hungry and were hoping to have brunch at Citizen Cake. Unfortunately, they don't serve brunch on weekdays (sigh, and I was eye-ing the French toast already). However, their lunch menu had some yummy-looking fares too. It consists mostly of sandwiches and salads, all very light and delicate (how Californian! Oooo). I had a smoked turkey sandwich called the Pavo Rico. In addition to the smoked turkey, the sandwich also has cocoa nib mole (which I didn't really taste), delicious mozzarella, roasted red peppers and cilantro mayo in between grilled panini-style bread. It was served with a small baby salad on the side and I loved it! It's possible that my hunger (remember, no breakfast) made the sandwich taste even better but hell, it was good!
My dear sister ordered the pizza with marinara, pepperoni, mozzarella and baby arugula. It was very simple but well-done.
My cousins had their ultimate grilled cheese sandwich which had cabot sharp cheddar, gruyère on acme italian bread also grilled to a delicious crisp with a small side salad. It was also very scrumptious.
Having made a thousand-mile pilgrimage to Citizen Cake, we just had to try their desserts, right? I mean, after all, it IS a restaurant owned by a pastry chef. The item that was recommended by out waitress is this rich, chocolatey cake covered in a delicate ganache. It was perfect: not too sweet, not too bitter and 100% dark. Yum!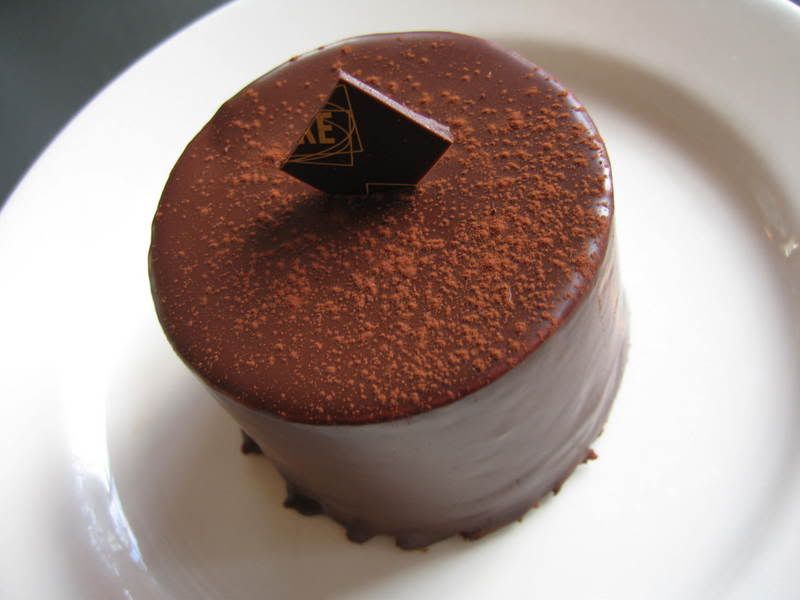 The second dessert item we had was less impressive: the rose petal creme brulee with saffron cookies. It was bruleed perfectly but the creme part was way too soft and liquid-y for my taste.The hint of rose syrup in the creme was nice and unique, but I found the saffron cookies unnecessary and too sweet.
The third dessert (yes, you read it correctly, THIRD) was the worst. I mean, it was rather disappointing but I must give them credit for inventiveness. It was named "gleaming the cube". It consisted of date-soft chocolate, sherry-date purée, pumpkin purée and coconut-thai sorbet. The plate was like a modernist piece of art but overall, the taste was bizzare and unfocused. I thought it was trying to do too much and ended up botching everything up.
I think maybe we should've stuck to the patesserie section of the place for dessert instead because the patisserie offering ranges from sinful cookies and cakes to fluffy, angelic meringues and cheesecakes and tarts. Maybe next time? Overall, it was an unexpectedly good place for lunch! And the sourdough bread they served was quite good. I mean, really, who in SF does NOT serve sourdough bread?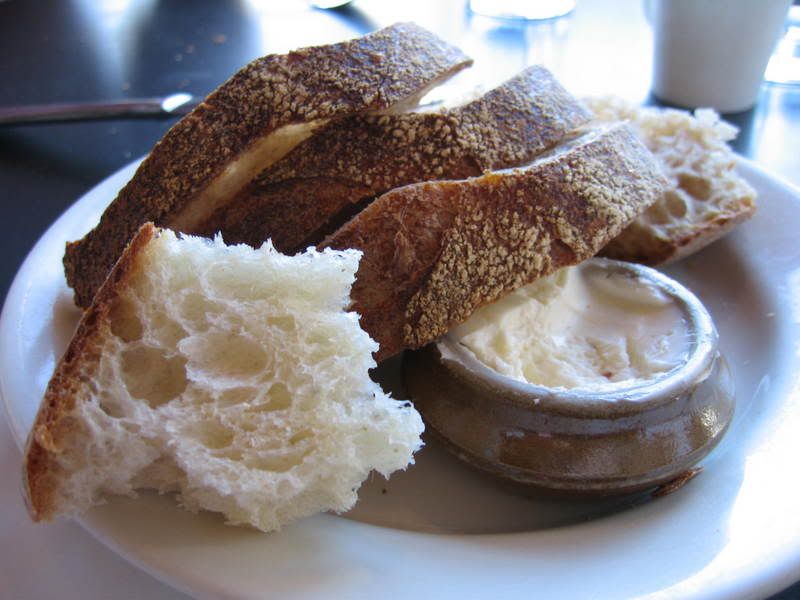 A better place we went to on our last night in SF was NIck's Lighthouse at Fisherman's Wharf. I know, I know, a rather touristy area but hey, they're by the wharf! So their seafood must be pretty fresh and it was. My cousin Jessy recommended this place and we started with a cup of lobster bisque and clam chowder. Both were delicious and creamy.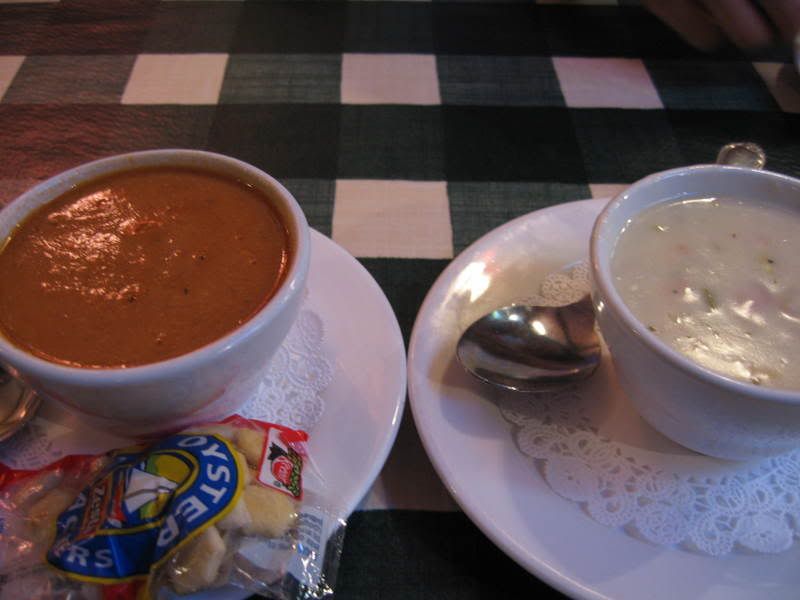 We then shared two main courses: the lazy man's Cioppino in tomato broth and a plate of lightly sauteed shellfish. I loved the freshness of everything and how well-cooked the seafood was. Sigh~ Just thinking of it makes me want to move to the coast.
Well, thanks to this entry, I'm now famished and it's time for lunch! Oo-ee! Leftover stuffing and microwaved Boca soy burgers, here I come!