I had a blast in SF hanging out with the cousins and trying out the SF food scene. What I didn't realize was what a big chocolate city San Fran is. I mean, SF really likes its chocolates! Everywhere we went, there would be specialty/artisan chocolates sold in all sorts of stores. I suppose I should've expected it because after all, Ghirardelli started in SF!
There was a chocolate store we chanced upon in the North Beach (or Little Italy) neighbourhood that offers a huge variety of chocolates, most of them made in California. I have been a bit of a chocolate junkie, like my mother, and I have been getting into dark chocolate. I find its complexity and mouth feel to be very rich and enjoyable. Hey, I like the occasional Hershey too but recently I've been finding milk (or even semisweet) chocolate to be a tad cloying on the tongue. I've also been inspired by a recent posting on a Chicago-based food forum that I belong to about a chocolate tasting party. Wouldn't that just be perfect for the holidays? Hmmm... I might cross that with a knitting session too! Hooray! So, anywayz, I bought a lot of chocolate in SF and they're all pretty good. The shop we encountered is "Z. Cioccolato", very Italian-ish, since it's in SF's Little Italy.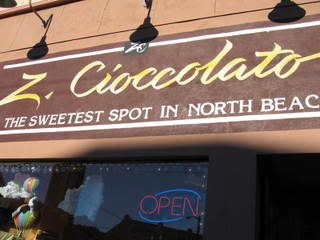 One of the chocolate bars I purchased there was a dark chocolate bar made in Boulder, Colorado for about $3.50. It contains 70% cocoa and tastes just heavenly! Unlike many other dark chocolate bars, this is smooth, creamy and rich without the slightly waxy mouth feel. The bar is not too thick and not too thin and has a nice surface area exposed for optimal tasting! There's also a love poem (awww!) in the inner side of the wrapper (which I haven't bothered reading ... yet). It would make the perfect gift for your sweetheart! Besides 70% cocoa bar, the same company also makes chocolates with other exotic flavors. They offer various cocoa percentages of dark chocolate bar in addition to raspberry-filled, espresso-infused and orange-flavored chocolate bars.
Also, at 160 calories for a third of the sizeable bar, it is a pretty good dessert or snack! Check out the other flavors they have and if you're interested, go to www.chocolove.com. They're available in select grocery stores but I found none in the Midwest. Sigh~
The other chocolate bar I got at the chocolate boutique is this 65% bittersweet chocolate by Charles Chocolates. I was too blinded by the prospect of hazelnuts in this dark chocolate and didn't realize that it also contains candied orange peels until I was about to open it and have some a few days ago. Part of the reason that I bought it was it's made in California. I mean, really, when in California, buy Californian stuff to bring home! However, this chocolate was a bit of a disappointment because to me, it doesn't have enough hazelnut flavor and the orange peel taste is too strong for me. The chocolate bar is also pretty thick (I like my chocolates thinner). Overall, it's not too bad but I wouldn't get this again. I would try the other bars this company makes but this wasn't really worth the $3.99 I paid. You can find the rest of the collection at www.charleschocolates.com.
I'm so happy that we had the chance to go to Little Osaka (SF's Japantown) for dinner and that we stopped by one of the grocery stores there! I luuurve grocery stores and I like to just even walk around and see what's available although I might not buy anything. Naturally, this grocery store has so many more Japanese products than the one I go to in Chicago. I was so excited at the sight of new, cute Japanese snacks I've never seen before that I just had to have a picture!
Okay, back to business! And of course, I bought a couple of snacks to tide myself over on the plane ride home and for times when I need some Jap goodness back home *sniff* *sniff* The first item I got was this box of milk chocolate bars called "Ghana". It's pretty dang good for milk chocolate and it has portion-controlled packaging for snacking at work. I had the impression that it was dark chocolate (which is why I bought it) but I think I was just too excited at the sight of so much Japanese snacks that I didn't read the box too carefully. But that's cool because this is one of the darkest-tasting milk chocolate I've had. Yay! I'm guessing that by naming it Ghana, the company's trying to tell us that the cacao beans they use to make it is from Ghana? Hmm, I need to learn Japanese!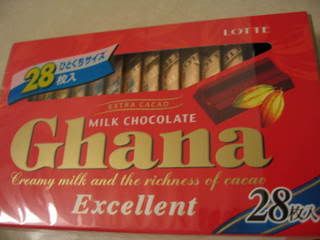 Another Japanese chocolate snack I got was a box of "Meltyblend", which is basically individually-wrapped square truffle-like chocolate bites that has a strawberry-flavored center. The chocolate coating is very delicious and dark-tasting, and the individual wrapping is, again, a great portion control.
My favorite Jap snack from SF are these green tea wafer-ish cookies that has a light green tea mousse sandwiched between a thin shortbread-y cookie and a thin wafer-like cracker. It is not too sweet and you know me, I luuurve green tea!
Another huuuge favorite are these black sesame Pockys! The sesame flavor is delicious but I wish it was stronger and more potent, but that's just the sesame but in me talking.
And now, for the worst Jap snack ever, is this green tea-flavored protein-y energy bar. I thought it looked interesting and I checked out the nutrition info and it sounded really good. Since it's green tea-flavored, I thought I'd give it a shot. What could be better than a green tea power bar? ... A lot, apparently! The bars are shaped like shortbread but it does NOT taste or feel like shortbread AT ALL! It was brittle and dry and tasted like cardboard. I could make out some green tea essence but it was mild and it was just not delicious. Although I'm not one to waste food or money, I threw the whole box out after one bite. Fortunately, I only got one!
I bought a bar of the new 72% cacao bar from a Ghirardelli boutique. They had a special promotion and since my cousins and I combined our purchase, we got two additional 72% free of charge (score!). Overall, I liked the taste, it sure was intensely dark, though still not as intense as the 70% Chocolove bar above. I also liked that the bar is thin and this exposes more chocolate surface area for my tongue. However, it is a little ... what's the word ... kinda, waxy, I guess. It's not as smooth as some of the other dark chocolates I tried. At $3.50 for a big bar, it's not too bad. I'll definitely be getting more of those if they're not too expensive. Well, that's all for m forays into the rich, dark world of chocolate in SF! Have a great weekend!