Man! Has it been forever since I last posted! It sure has been a pretty hectic new year indeed. I now have a new part-time job in another lab that works with human subjects. So now, instead of just tinkering cells in petri dishes and mice, I mess around with people. Haha! So far it's not too bad. I wanted a part-time job for 2 main reasons: (1) the extra money (d'oh!) and (2) the experience doing "clinical" or translational research might just benefit me in the future if I decide to continue a research career. So anyhoo, that's it with the boring stuff!
It was the boyf's birthday in January and I baked a birthday cake of course! It's a basic yellow butter cake recipe with chocolate frosting. I cheated with the cake, I used boxed Duncan Hines mix (hey! It was only 99 cents a box! I couldn't resist cheap, easy stuff), but I made the frosting from scratch with my new pwecious Kitchenaid stand mixer (it worked soooo well!). The cake turned out fragrant, moist and delicious. The frosting was good on the day I made it but somehow the taste deteriorated as the days passed (we couldn't in good sense finish the cake in a day!). Part of the reason might have been the fact that I used Dutch-processed cocoa instead of plain cocoa. Maybe I just didn't use enough butter! Anywayz, it looked pretty good, right?
Besides the cake, I was also inspired to make beef stew last week. The cold, blustery weather outside made a perfect accompaniment for a comforting stew dinner. The recipe was very simple and consisted of the standards: meat, potatoes, celery and carrots. It turned out delicious and was awesome for dunking sliced, toasted Italian bread! What made it really special was the tomato sauce that was added in the stew, making it tastier and appear redder than normal stews.
Talk about red, did you know that Florida now grows strawberries? I know that California has always grown strawberries all year round but Florida?!?! The strawberries below were grown in Florida and they're pretty juicy and yummy. The boyf and I have been having a pound of strawberries per day because I bought about 4 or 5 boxes of them when they were on sale at our local grocery store. So, I've been stuffing them down our throats so we'll have finished them before they go bad. I mean, really! There are worse things to stuff down your throat!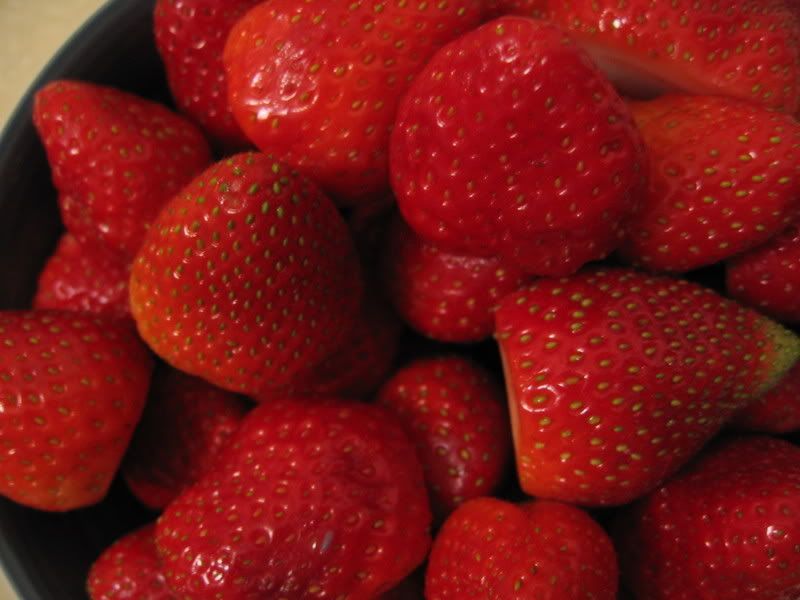 The highlight of my week is tasting wagashi, a traditional Japanese sweet, that my sister's boyfriend brought back from Japan for me (Arigato gozaimashta, Motoi-san!). I was just browsing on Amazon.com and encountered
wagashi
in their grocery section. Many reviewers really liked it and that got me really curious. Having done some research on Wikipedia and Google, I found out that it is a category of Japanese sweets that are traditionally served in the Japanese tea ceremony. They're usually made of rice flour and red bean (anko). Although I'm a big chocolate and ice cream fan, I also like subtler desserts that are not as sweet or overpowering. My kind sister e-mailed his boyf about it and he brought back a box of them! Joy! Check it out! Isn't the packaging simply adorable?
This kimono-clad cartoon girl is soo cuuute and the drawing of the wagashi is pretty accurate!
So anyway, I had these triangular goodies with green tea and it was perfect. Lightly sweet, delicate, chewy and oh-so Japanese! It would have been good with other light teas too, eg. ginger, herbal, etc. There are two different flavors. The first is black bean, which tastes very similar to red bean (or azuki) but is slightly stronger. I don't know what the second kind is but I'm guessing something along the line of persimmon. Both are tasty but I prefer the black bean one just because I know what it is and less bland. If you look at the pictures below, the one I suspect to be persimmon appears to have a less amount of stuffing.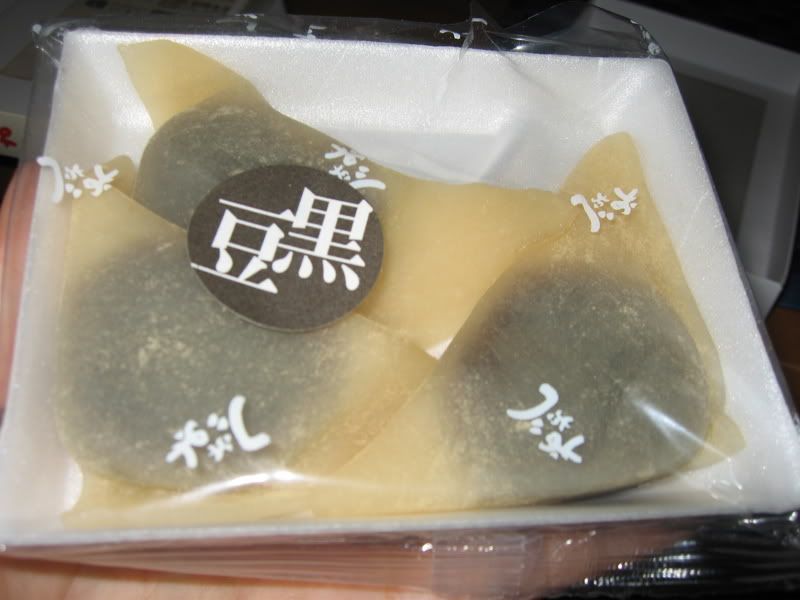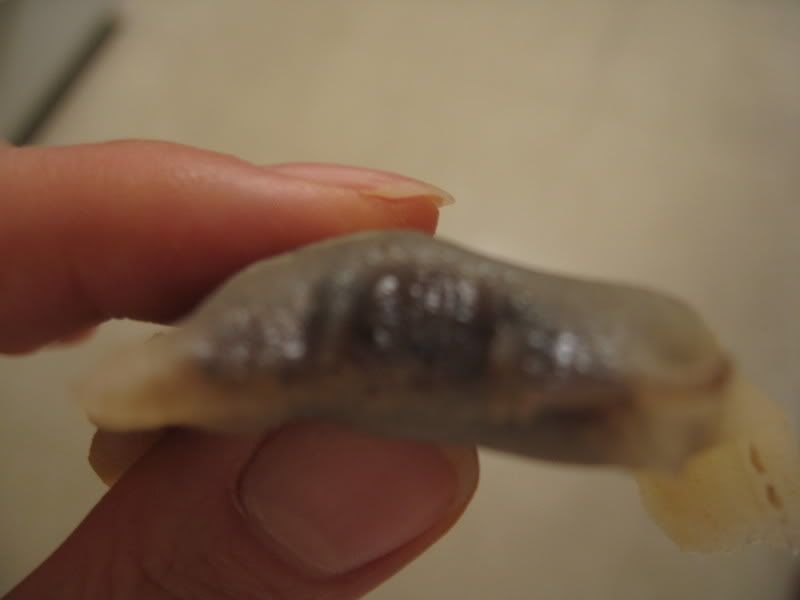 That's all the new adventures so far this year but 2007 sure looks like it promises way more to come! Ciao!