At Bistro 110, a chic French-American eatery in downtown Chicago, roasted garlic is served alongside fresh, warm bread and butter even before the waiter takes your drink order. It was the very first place I encountered roasted garlic. It was delicious! Roasting the garlic totally took away the heat factor but left a more sedate and tasty garlicky flavor. Warm, fresh, buttered bread is the perfect canvas for such a distinctive taste. It is obviously very popular at Bistro 110 because they have been printing the recipe for roasted garlic on a 4-by-6 card that they give out to every customer. Even though it's very simple, I don't know why I never got around to it sooner!
My interest in it is finally rekindled because: (1) I have some garlic lying around, and (2) I happened to see a recipe for roasted garlic in some paper that I was reading. So, here's how you go around making this heavenly treat! All you need are some foil, good quality (extra virgin, preferably) olive oil and garlic.
Preheat the oven to 400 deg. F. Meanwhile, chop of the top part of the garlic to reveal the cloves.
Tear of a length of aluminium foil enough to loosely warp the garlic. Place the garlic on the aluminium foil and drizzle the cloves with some olive oil, before loosely wrapping the garlic with the foil.
Put in pre-heated oven and let roast for 50 minutes to an hour. During this time, your house will smell like the kitchen of an Italian grandmother and attract hungry people like bees to honey! And voila, behold the sheer perfection!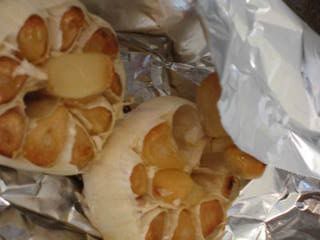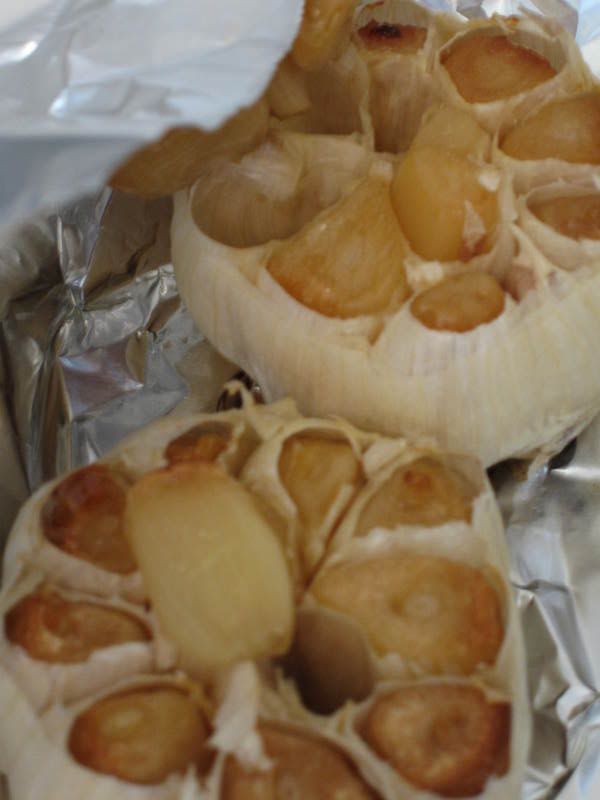 I didn't have good bread around the house (only a pathetic loaf of generic brand rye bread). Fortunately, there's an Italian eatery in my apartment building where I immediately trudged my way to for a loaf of good Italian bread. I toasted a few slices to serve alongside the roasted garlic as an appetizer.
Now this is what a taste of perfection looks like. It's so simple that anyone should try it at least once. I can totally assure that you WILL be hooked because I am!