It's summer and the smell of grilled food is everywhere. Being a urbanite without a nice balcony, I've been deprived of home-grilled foods for some time now. The last time I grilled was when J and I were in Wisconsin and we happened to have brought our grill along. We grilled our meats at a park near New Glarus and I must say that nothing tastes better than a freshly-grilled meat! Determined to end our drought of grilling fun, I've told J to clean his baby grill and we're going grilling! The main foods we grilled were burgers, sweet corn and pineapples. Very simple, I know, but this was our first time in some years, so we're starting slow.
We decided to bring the grill and the food just right across our apartment, to Jackson Park. The park isn't that large but is very nice and green. It is surrounded by busy streets but the lush trees and a nice playground manage to shield away the traffic hustle and bustle for the most part. The trees and vegetation used to be more lush before a huge thunderstorm destroyed (yes, literally) some of the trees. Most still remain but it would be nice if there were more greens, no?
We managed to get everything we needed down there in 1.5 trips (only I came back the second time) thanks to my organization *winkz* It took no time to light the charcoal and we started grilling our burgers. While our meat was grilling, we started to feel some water droplets. To our horror, it starting drizzling a bit and we happened to be situated on a patch of the park that had no tree cover at all. Unwilling to back down to mere slight precipitation, we moved our grill and other accoutrements beneath a large tree (not the smartest thing to do considering the increasing risk of being struck by a lightning under a tree, but hey! It's not a heavy thunderstorm!). Fortunately, the rain died down about 5 minutes later, resurrecting our first cookout of the year! Yippee!
I used a
recipe
I found on Allrecipes for the burger. It basicaly contains ground beef, Worcestershire sauce, ketchup, egg, salt and pepper. I decided to make it sans bacon because we were going to have two burgers each so wrapping them with bacon wouldn't be so good for our arteries. The recipe yielded pretty tasty burgers: well-seasoned and tender. The only problem we encountered was that they didn't hold together so well. Some little chunks of meat got stuck on the grill grate and fell into the coal, but luckily for us, most of it was intact for us to devour.
It took a bit of effort to cook the burger thoroughly enough (we do not, after all, want to get Salmonella or E. coli!) but they turned out nicely-charred outside while still juicy and tender overall. Other burger accessories included the bunz (of course), lettuce, sliced tomatoes, sliced onions and ketchup.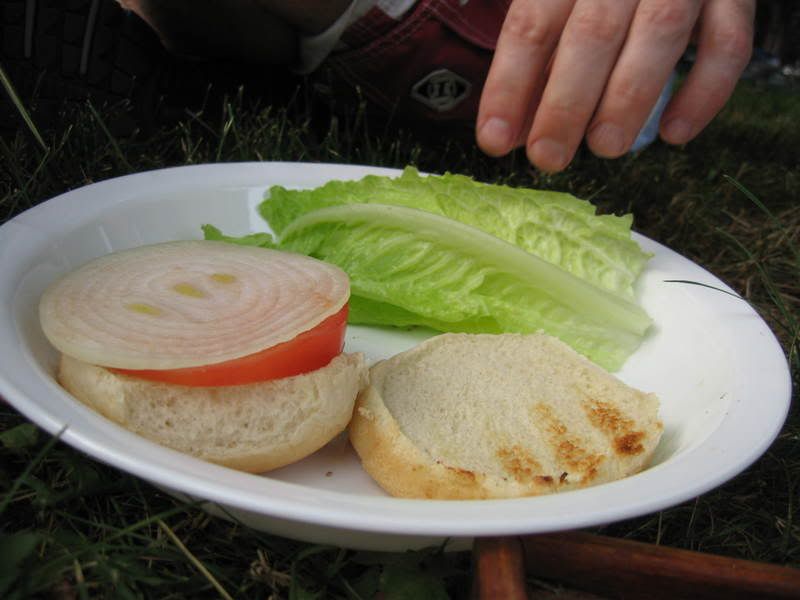 Now, isn't that a beautiful burger or isn't that a bee-yoo-tiful burger? And delicious to boot too!
And check out this perfectly-browned corn! Tasting the charred corn topped with some butter and salt really brought me back to the weekends that I spent with my extended family in the mountains right outside of Jakarta. On Sunday, our parents would bring us to this villa complex that has a man-made lake (or a large pond, really) and a huge playground with a pool of plastic balls. There would be a stand that sells freshly-grilled corn that they also bathe in butter. My favorite part of the grilled corn was (and still is) the slightly charred, browned part for maximum smoky flavor!
For dessert, I wanted to try grilled pineapples. I was inspired by a recipe I saw while watching the Food Network. If I'm not wrong, it was Paula Deen who grilled the sliced pineapples and served it with some ice cream.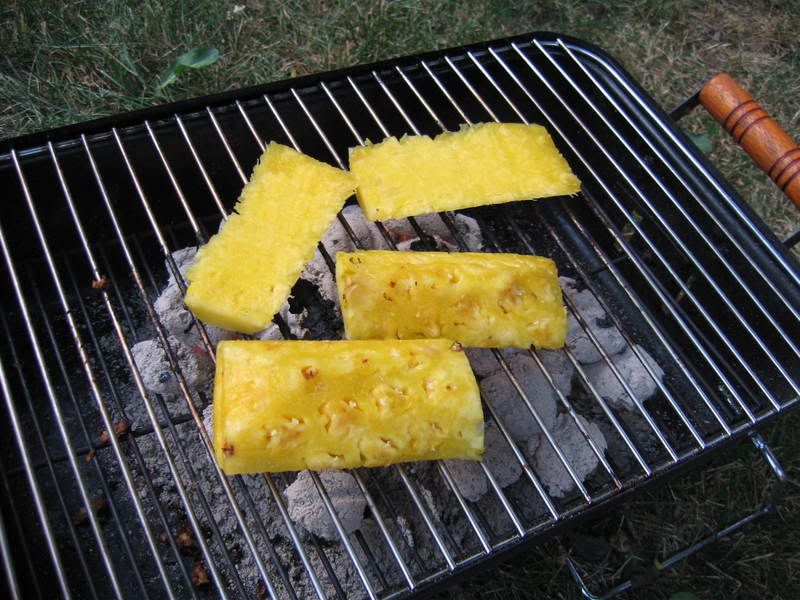 Unfortunately, we didn't have any ice cream or a nice, cool treat with us that would've been nice with the warm, sweet pineapple. Grilling the pineapples made it softer and even more juicy. The taste of warm fruit is a bit odd to me because I usually always have fruits either cool or at room temperature. The warm, grilled pineapple was interesting but I wouldn't have it stand-alone for dessert again. It would go better on a shish kebab or served with ice cream (or chilled by itself).
So that was the highlight of my weekend (in addition to just cleaning up around the house). Our bbq excursion took a bit of organization but it was tons of fun and delicious food. I plan on having more bbq sessions this summer and we're going to try to have it by Lake Michigan, which is only 5 blocks away and is way prettier than Jackson Park. So join me outside and fire up your grills!