Hello again friends! It's truly horrible to be welcomed back to Chicago with piles and piles of snow but hey, c'est la vie. Actually, I couldn't have picked a better time to scoot away from Chicago to the Carribean because by the time I got back, the Arctic chill is about to end. Yippee!!!
But anyway, St. Martin, my Carribean vacation destination, was pure heaven on Earth. Beaches abound, only the most delicious, freshest foods and great great people. We stayed at the
Hotel La Plantation
, on the French (or northern) side of the island. It is an interesting place just because it's a mere 5X7 miles but is shared by two countries: France and the Netherlands. People cross the borders freely and the two sides have very different feels and systems. For instance, although the US$ is widely accepted the official currencies of the French and Dutch sides are the Euro and the NAf (Netherlands Antilles florins) respectively. Both sides are blessed with beautiful beaches but the French side (though generally more expensive) has many world-class restaurants while the Dutch side is more known for the good deals you can get (in stuff like liquor and jewelry). It is also surprising the while we encountered many French people, we didn't meet any Dutch person. The actual traveling part of the trip was a drag relatively because our flights to and from St. Martin were delayed for at least an hour due to some engine-related issues and other delay reasons. The flight was long enough (~5 hours) that I wished that we were in business or first class instead of coach. And I thought it was simply inhuman for the airline to NOT give us any food during the whole ordeal. If you want a snack pack (which contains a combination of the following: meagre meat-deficient sandwiches, mini-size mini goldfish crackers, mini-pack of 2 Oreos, mini-cup applesauce, etc, you get the idea!), you have to pay $5. Yessirree, $5 for a pathetic box of snacks!
Complaints aside, the actual vacation was wonderful! We spent most of our days at the beach lazing around, reading, playing in the water or eating/drinking. It was really relaxing and wonderful but towards the end, I got tired of lathering on sunscreen every other hour (hmmm, sounds so snobbish!). Our resort was located only a mere 5-minute walk from Orient Bay Beach, the beach that was voted to be the best beach in the Carribean and I must agree (though it is the only Carribean beach I've been to so my vote doesn't really matter). The sand on Orient Beach was sugary soft and warm (never hot!) and alongside the whole stretch there are many restaurants, bars and water sport rentals. Although it sounds rather commercialized, it really wasn't that bad. I wanted to try parasailing but I just didn't get around to it...
As expected, the weather was what most would consider beautiful. I grew up right on the Equator so I don't really equate a cloudless, sunny day to beautiful. But anywayz, the days were super sunny (thank God for my SPF 50 sunscreen!) and were mostly cloudless. The nights were comfortable and the sky was so clear that we could see millions and millions of stars! I don't think I've ever seen that many stars! The resort we stayed in was also very beautiful. There are about 20 individual villas that are very colorful and surrounded with lush vegetation. Our room had a huge bed with mosquito net, kitchenette and a lovely balcony. I adored the nice little balcony and we would always spend a part of our mornings reading or knitting or just hanging out there. I really liked the natural feel of our resort but it would've been slightly nicer if the vegetation was slightly trimmed so we have an even better view of the ocean.
We only woke up super early one day (the last day) and I managed to pry my eyes open enough to snap a heavenly vision of the sunrise from our balcony.
Sights aside, the food we ate during the whole trip was really good! The worst meal we had on the island was way better than the worst meal I've had in Chicago. We wanted to take advantage of the fact the we were in the Carribean and thus, ordered a ton of seafood. In retrospect, we should've had a more balanced diet that includes fiber and minerals and stuff but whateva! We were on vacation and I made sure that we had a multivitamin every day. The best meal I had on the island was our Valentine's Day dinner. Thanks to friends at the internet food forum I frequent, I chose
La California
at Grand Case (a town on the French side). The town is essentially a row of restaurants along the sea. Someone on the food forum really enjoyed their pizzas and the breathtaking view. And breathtaking it was!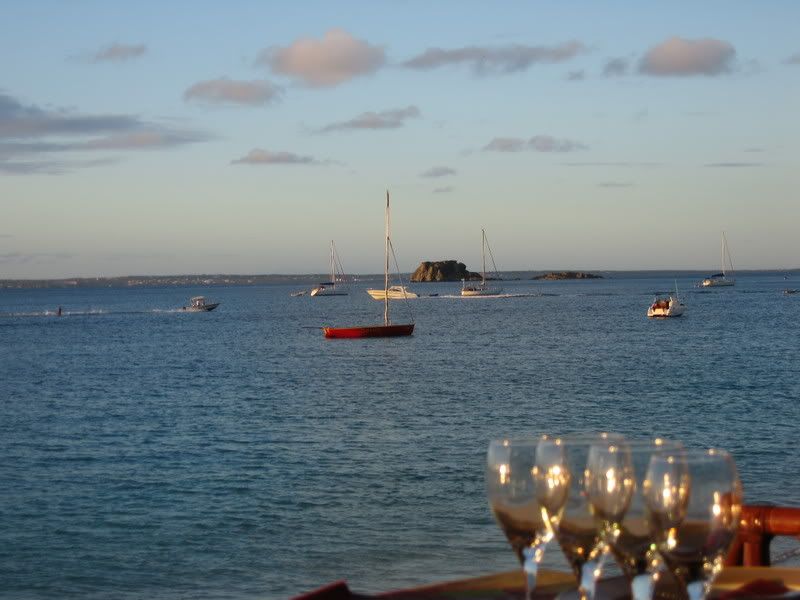 We were lucky enough to catch the beautiful sunset over a chilled pina colada and a strong martini.
Instead of their pizzas (which looked good too), we went with the specials: shrimp salad with smoked salmon and grilled lobster and vegetables. They were both out-of-this-world delicious! The combination of shrimp, smoked salmon, boiled eggs and greens were just so refreshing and yummy. The grilled lobster was simple but very good. It was served along with three sauces: cocktail, garlic butter and Creole. We didn't touch the cocktail sauce at all (I mean, really, cocktail sauce on lobster?!?!?) and our absolute favorite was the garlic butter. For whatever deluded reason that I can't remember, we didn't order dessert there but the dinner at La California was the best meal we had in St. Martin!
Another meal (it's more a snack, really) we thoroughly enjoyed was at L'Escargot, a cute almost chintzy restaurant at Philipsburg, which is on the Dutch side of the island. Upon entry, one can see the various mementos that decorate the restaurant, on shelves, tacked on walls and even the ceiling. Unfortunately, we weren't hungry enough for a full-blown lunch and decided to sit at the bar for a drink. We had the pina colada and their special, guavaberry daiquiri and both were very tasty and cooled us down considerably after our long walk.
My travelling companion was hungry enough for a snack and ordered the restaurant's special, escargots (duh!). We had half a dozen escargots in garlic butter with some French bread. The escargots were tender and scrumptious! They were super garlicky (which I totally love!) and were perfect to munch on a slice of fresh Franch bread. Of course, it doesn't hurt that it they were also bathed in butter!
Another remarkable meal we had was at Claude Mini Club in Marigot, the French side's capital. Marigot is a cute town that is known for its marketplace, that sells the usual chintzy souvenirs but also has gems like local fruits and vegetables and crafts. I bought a rather large bottle of vanilla extract and a dozen vanilla beans for only $20! I can't wait to bake with them! Ok, back to Claude Mini Club. We went to Claude Mini Club almost by chance or luck, if you will. We actually had sat down in another restaurant that was nearer the heart of the town (I think it was Cafe de la Mar or something along that line) but no one approached us at all even after 15 minutes of sitting around. So we decided to take our business to Claude Mini Club, which was just a 5-minute walk south, where we were seated immediately.
Claude Mini Club has a unique decor and has a seaside treehouse ambience. The two palm trees growing right through the two storeys of the restaurant and through the roof helps with that. For our lunch, we ordered a set lunch menu and a daily special, starting with their divine fish soup that was served with toast, a special sauce and shredded cheese. The soup was tasty and the crunchy toast with sauce and cheese was a great accompaniment to it.
As part of the lunch set menu was the fish. We selected red snapper with Creole seasoning and two sauces: Creole and garlic butter. The fish was tender, flaky and well-seasoned. The daily special was a combination of cold lamb and beef with a light salad. It was succulent and deliciously meaty (duh?).
However delicious the soup and entrees were, the dessert was the absolute highlight. We ordered one dessert each: the lime cake with sorbet and creme brulee. I know it's very decadent for lunch but we were on vacation after all! The lime cake was very yummy. It has a few different layers of cake and/or lime-flavored pastry cream. It was topped with a very refreshing lime sorbet (you can easily discern the chunks of lime zest!) and together, it was very good (I'm running out of decent descriptive words for food. Sad). The combination of the cold, creamy sorbet with a moist lime cake was perfect on a hot Carribean day.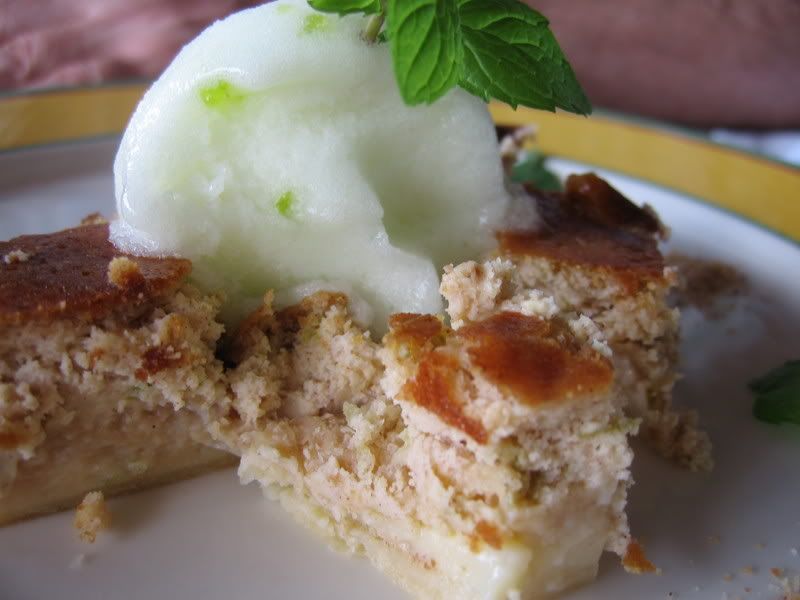 The creme brulee was also out-of-this-world good! It was one of the best creme brulees I've ever had. The custard part was smooth and creamy; the bruleed sugar was of the perfect thickness and cracks like the way creme brulees should when I dove into it.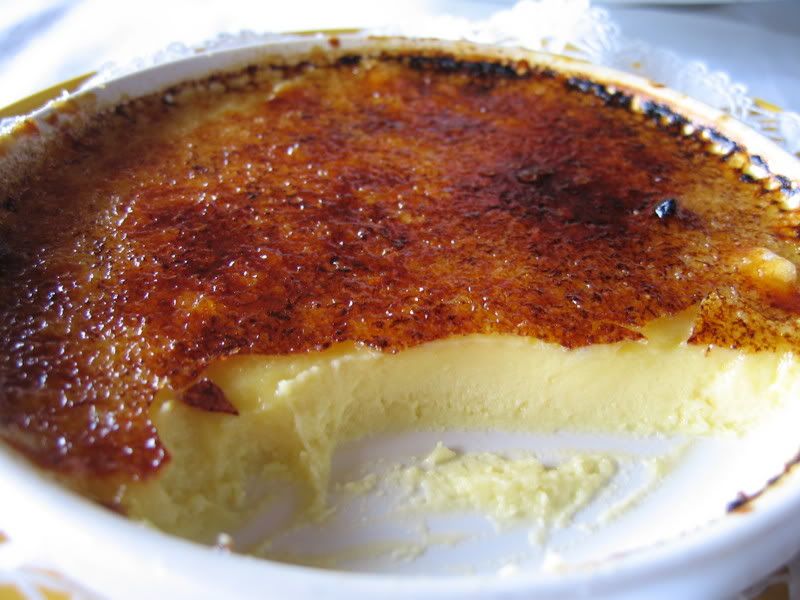 That's it for the highlight of my week in paradise. It was a much-needed break from reality but at the same time, it feels good to be back around familliar people and surroundings. I really enjoyed exploring around and lazing around in St. Martin but there's really no place like home. One interesting thing that happened was that one day when we were out scouting out restaurants for dinner, there was a blackout in the Orient Bay area, which I'm pretty sure affected the whole island too. We were stuck waiting around for the electricity to come back on at a snack bar kind of place and at the adjacent table were a group of local Frenchmen who just continued to hang out and smoke and drink like it's nothing out of the ordinary.
Another thing I found interesting (but rather sad, in a way) is that St. Martin has so many stray dogs! Surprisingly, they were all very tame and well-behaved. On the beach, they would seek out shade and then nap. Other times, the bolder ones would approach humans for scraps of food. They were all surprisingly clean-looking for strays and were very cute. There was even a golden retriever stray dog! Can you believe that such a prized and expensive dog is a stray in St. Martin? Well anyway, so I thought that was mildly sad but at the same time, I think it's a little better to be a stray dog in a warm climate than say, Chicago, where winters are cruel! Below is a picture of the cutest one I encountered who came to our breakfast table one fine day and accompanied us through the morning. I gave him a bacon scrap, which he thoroughly enjoyed, but forgot me afterwards (haha!).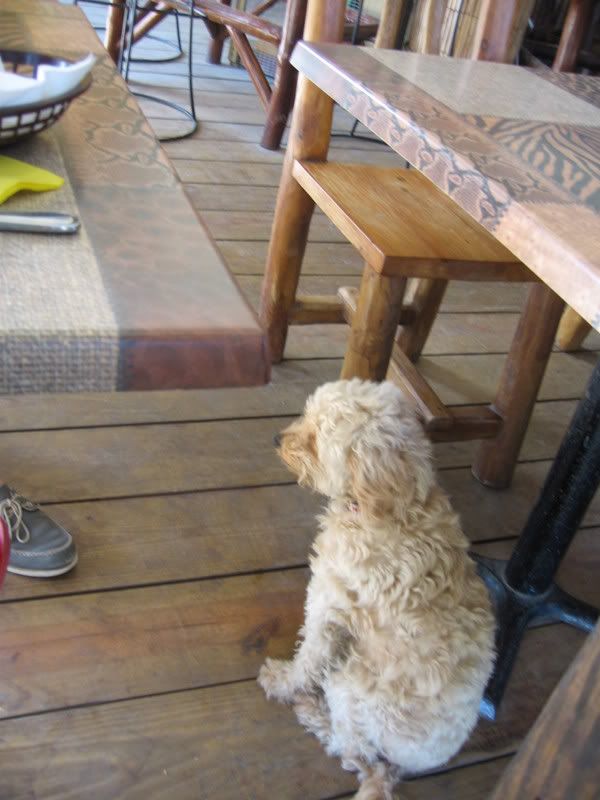 I sure will miss being able to knit in paraside without the threat of a snowstorm but then again, who wants to cook/bake in the hot kitchen? Thank God for Chicago!