Hi friends!
I've been back from Indonesian homecoming trip for over a month now and I must say that I'm already home sick, not only because the majority of my family is there but also because of the delicious Indon foods! I hadn't been back for two years before this trip, so you can bet your bottom dollar that I ate like there's no tomorrow! I spent a mere two weeks in the Indon capital, Jakarta, and one night in Singapore. As you can imagine, it's not enough time to sample all the delicacies.
The first thing I craved for was bakmi Gajah Mada (or Gajah Mada noodles). The original restaurant was opened on Gajah Mada (GM) street, and thus, the name. Their specialty is their home-made noodles that is served along with shredded chicken, fried dumpling, meatballs or vegetables (you pick!). The yummy noodles comes with a small bowl or the noodle broth that you're supposed to drizzle over the noodles before mixing it all up and gobbling it down (along with a squirt of their home-made chili sauce if you like). Bakmi GM has become a cult favorite of sorts among "Jakartians" (who are famed in Indonesia for their passion for noodles). Oftentimes, Jakartians who have been abroad for a long time make a pilgrimage for bakmi Gajah Mada first before other delicious Jakarta eating establishments. I think part of the reason for its popularity is bakmi GM's comfort food status among Jakartians like me.
After the scrumptious lunch, I proceeded to get some good old cakes I used to buy along the streets as an elementary student. It's one of the "jajanan" (snacks) I love from "kaki lima" (literally meaning five feet). Kaki lima basically refers to food peddlers on the streets of Jakarta that cook and store the product on their carts! They are nicknamed kaki lima due to the fact that the combination of the sellers' feet (2), the cart's two wheels (2) and the cart's back stand for balance (1) add up to five "feet". So anyway, I spotted two carts selling some of my favorite sweet snacks: the sombrero-shaped kue ape, kue bolu cubit (pinching cake) and kue laba-laba (spider cake).
Another kaki lima dish that I got to eat again is soto Betawi (or Batavian soup; Batavia is an old name for Jakarta). Soto Betawi has a peppery, sweet, soy-curry flavor with a hint of lime, coconut and other spices. It also has shredded chicken, glass noodles (or other kinds of noodles) and is served with fragrant, fried shallots sprinkled on top.
Another good old favorite of mine and my family's is sweet martabak Surabaya style. It is sold in open restaurants with open kitchens along the streets of Indonesia. Martabak is a round, thick pancake with a thin, crispy crust around it. When the middle is a little more than halfway cooked (think firm but soft and creamy texture), it is then generously buttered and then sprinkled with toppings of your choice. Toppings include crushed peanuts, chocolate sprinkles, shredded cheese and sesame seeds. I know what you must be thinking: cheese in a sweet dessert pancake? The kind of cheese that martabak makers use is one that is made in Indonesia. It is less salty and pungent, but sweeter and milder.
Batter preparation with an old-school mixer.
It is then poured onto a special heavy pan. They then spread a thin later of the batter on the sides of the skillet to achieve a crispy crust surrounding the pancake.
The cooked martabak is then transferred to a chopping board for generous buttering and sprinkling of the various toppings. You can "harass" the cook to give you more toppings. Yippee! More peanuts for moi!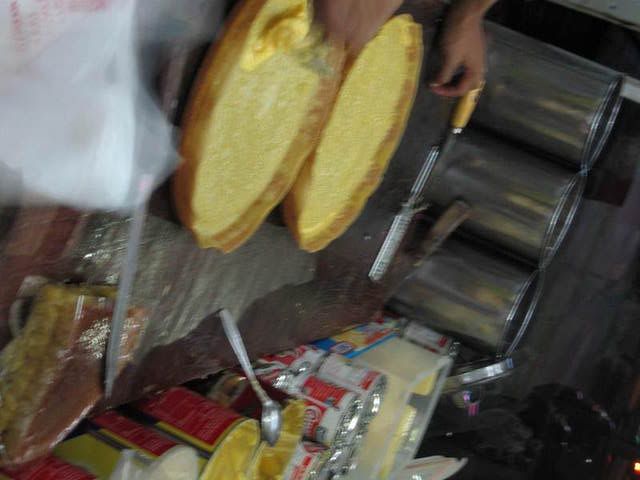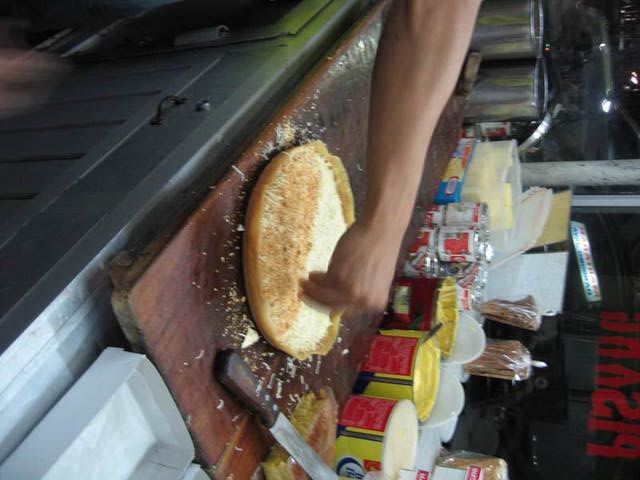 It is then cut into smaller pieces in case you want to munch on them in the car. The man in the foreground is my father, who as you can see, just couldn't wait to get his hands on our ooey-gooey, buttery, cheesy, nutty martabak.
Besides the sweet martabak, there's also the salty martabak. They're completely different not only in the way they taste but also in the way they're prepared! The sweet martabak is grilled on a pan while the salty martabak is deep fried. Fortunately, the stall we go to makes both sweet and salty martabaks. Bonus! The salty martabak is filled with either sautéed vaggies, ground meat (lamb, beef or chicken) and/or eggs. The salty martabak starts with a really thin dough that has been tossed around skillfully by this cool guy.
It is then deep fried in oil, where the cook turns the martabak around continuously (for maybe, faster cooking?) and at the same time tries to keep the martabak flat by pressing a large flat spatula on it.
It can be eaten with a special soy sauce that the store gives. The alternating layers of filling and fried dough drizzled with the special sauce was heavenly.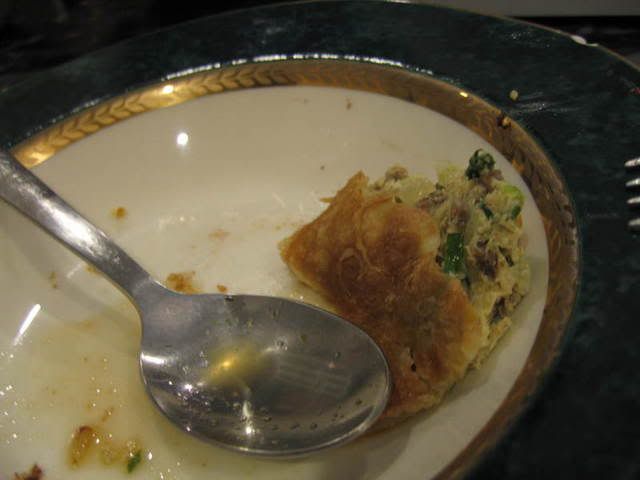 Another "street" food of my childhood is called ronde. They're basically balls of glutinous rice flour filled with crushed peanuts. The ronde are cooked in a ginger-laced broth along with barley. It is kind of like the popular mochi ice cream except that the mochi skin is thicker and it is filled with nuts instead of ice cream.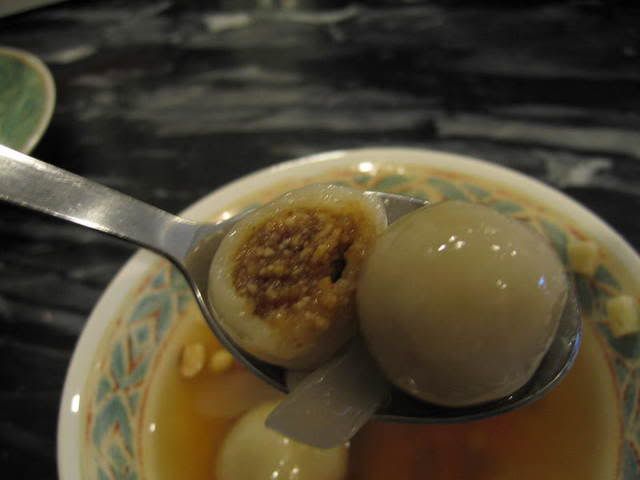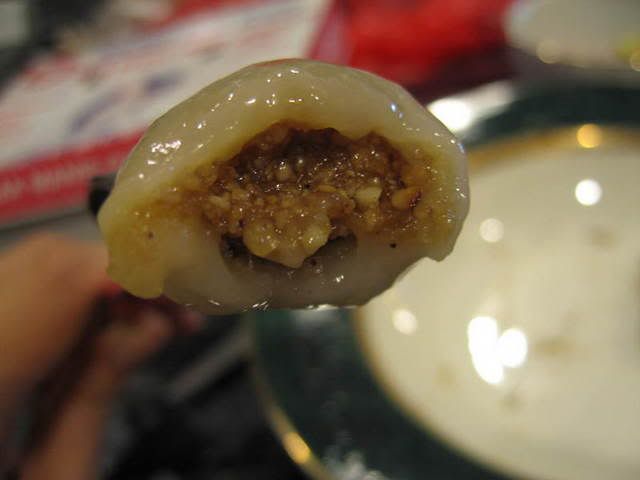 Besides delicious snacks, Jakarta's streets are also chock filled with vendors selling delicious "ethnic" foods. Indonesia is such a big country that comprises of thousands of islands. There are about 300 different ethnic groups that contribute to Indonesia's rich cultural fabric. I had the fortune the enjoy food from a street stall that makes Javanese food. The stall's specialties are plain steamed chicken and bubur ayam (or chicken porridge), both of which I tried. The different regions of Indonesia enjoy their porridges in slightly different fashions. For instance, the Aceh people prepare bubur in chicken broth with shrimp and several spices. It is supposed to be good for restoring energy after a whole day of fasting during the holy month of Ramadhan. The Javanese Islam prepare bubur Suro, a porridge named after the 10th day of the month of Suro on the Muslim calendar. Bubur suro is served with Indonesian chicken curry sauce (also known as "opor ayam") and a handful of pomegranates.
So anyway, our food was prepared in an open kitchen right next to the road and you can pick whichever chicken pieces you want. Unhygienic, I know. If there was such a place in the US, it would be closed down on its opening day *Har*
The chosen pieces of chicken were then shredded and served with a drizzling of a sesame oil, soy sauce combination and sliced cucumbers. The porridge can be eaten with their yummylicious home-made chili sauce and fried dough fritters (otherwise known as "cakwe" or "youtiao" in Mandarin).
Chinese influence also exists in the food scene of Indonesia, especially Jakarta. My family and I made a pilgrimage to a family friend-owned restaurant in the "puncak" (or mountain areas of Bogor for a day trip. It's approximately a 2.5 hours drive through snakey roads that wind in the mountains. The restaurant is named "Pada Senang" which translates to "Everyone is Happy". And that much is true when my whole family used to come here. When I was a young child, my grandfather used to own a villa in the Bogor mountains and the whole nuclear family would often spend weekends with my grandparents. Pleasing everyone was no small task when the whole family consists of 2 elderly grandparents, 14 uncles/aunts/parents and 17 cousins (including my sis and me). But there is something for everyone at Pada Senang. It now has a second branch in Jakarta but my parents are convinced that it doesn't even come close to the food in Bogor.
The menu is written in Chinese on a blackboard. They serve favorites and occasionally have specials that use seasonal ingredients. The restaurant is sparse and still has about twenty copies of this year's calendar on its walls as its main decoration, which is quite funny. They must really have a very short-term memory if they need a calendar in their face wherever they go J So we ordered our old favorites, including bihun ayam (rice noodles with chicken), sautéed tofu with pork, kuluyuk (or sweet and sour chicken), and fish head soup.
Isn't it weird that they sell bottled Guinness in hot, hot Indonesia?
The bihun ayam was as I remembered: perfectly seasoned, and there is no shortage of shrimp, eggs, chicken pieces and fresh vegetables!
I forgot the Indonesian name for this dish. This tofu dish was delicious even though it almost had the mushy consistency of porridge (almost!).
The piping hot sweet and sour chicken was topped with sliced sautéed onions and was not (thank God!) completely covered in the sweet and sour sauce, which is the way I like it. It allows each person to add as much sauce as he/she wants to and I happen to prefer mine with just a few drops. The fried chicken did not taste excessively greasy and I loved that the breading just right: not too thick, not too thin.
The fish head soup, as you can imagine, was rather fishy. I tasted a tinge of allspice, which mellowed out the soup. However, the fish was cooked very well: it wasn't too tough and it wasn't mushy.
We then ended this heavenly meal with a "gemblong" that we bought from a traveling vendor. Gemblong is basically spheres of fried dough that is filled with grated coconut. It is also then dipped in a combination of sugar and gula Jawa (also known as dark palm sugar). As you can imagine, it tastes very sweet. The gemblong consistency is quite chewy and while it also melts in your mouth.
The biggest meal (literally) that I had during my homecoming was in Eka Ria, a quintessentially Chinese restaurant near Jakarta's Chinatown in central Jakarta. My late maternal grandfather loved to go there for special occasions. So we ate there for my lovely mother's birthday celebration and boy, what a feast it was! So this is the menu written in Chinese. It was an 8-course dinner (not including the birthday cakes) served family style.
We started with "ee foo mee" (or Ee Foo noodles) that is both crispy and soft at the same time. It is served with fried egg yolks, chicken and vegetables. As you can see from the glistening noodles, it is pretty greasy, and man, was it delish!
Next, came the 7-colored (or rainbow) platter heaped with (what else?) seven types of Chinese delicacies. In the middle of the picture is a pile of stringy, crunchy, spiced jellyfish with sesame seeds. On top of the pile are quartered century eggs (that are normally served with rice porridge). To the left corner, the white, creamy-looking stuff is shrimp with mayonaisse (my favorite of the seven); going clockwise to its right, is some fried tofu skin, followed by chopped braised liver; the light colored item closest to the camera is steamed chicken. To the left is some sliced duck meat and deep-fried Chinese style chicken fingers.
The following course was one of Eka Ria's specialties, their famed fried pigeons! They were super salty (too salty for me). Their skin is very crispy and rich, the meat was tender and it literally melted in my mouth. However, I didn't think all that work (tearing the wings and legs off, trying to tease out the meat) was worth it just because these pigeons didn't have much meat on them.
As if this meal wasn't rich enough, the next course was Peking Duck (argh! My arteries … are … blocked …). The crispy duck skin is served with sliced bread (Eka Ria style), sliced Chinese ham and sprigs of green onion with little bowls of special plum sauce.
The next dish, fried super jumbo shrimp is my favorite! I think they were steamed and then stir-fried in their house chili sauce. The super jumbo shrimps were so meaty and nicely tender (not overcooked, joy!).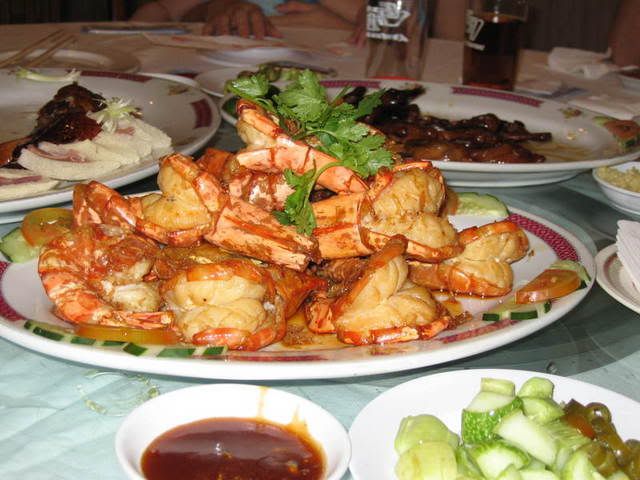 It was then followed by winter melon soup (lower bowl in picture) that also contains beans, shredded meat (pork, I think?) and of course, winter melons. It was a perfectly mellow counterpoint to the spicy fried lobster. The upper bowl in the picture is the fish course of the night. I'm not sure what kind of fish it is but I know it was steamed in a mix of sesame oil, soy sauce and topped with green onions. Again, this matches very well with the winter melon soup, providing a salty contrast to the winter melon's mild taste.
I didn't take a picture of the other soup course we had, Eka Ria's famed seafood shark's fin soup. I was too busy devouring the succulent chunks of crab and fin. However, check out one of the cakes that we had for my mum's birthday. It's a rich chocolate cake that had 3 layers. In between the layers were raspberries and raspberry jam. Pretty choco-licious!
Jakarta also has a growing Korean population and with it, an increase in Korean restaurants. I had a wonderful barbecue at a Korean restaurant in Jakarta named "22". "22" was the only thing on its sign that I know, the rest was written in Korean. So anyway, like many Korean barbecue places, the meat or kalbi is cooked on the table, in front of you on a grill. The cool thing about "22" is that not only does the waitress do the cooking for us, the meat was cooked on a coal grill.
The kalbi was tender and delicious. Besides the meat, we also had the various Korean appetizers in small dishes. The appetizers include the customary kimchi, spicy mussels (or are they clams?), mini egg pancakes and steamed vegetables among others. We also ordered kimchi ji gae (kimchi soup with tofu) and chap jae. I must say that the chap jae was the best chap jae I've tasted and everything was authentic (after all the owner is Korean).
The spiciest meal I had was at a streetside restaurant that specializes in grilled fish. I forgot the name already but I think it might've been Batu Tulis and is located near Jakarta's Chinatown. My parents were pretty regular customers here, so before we even sat, my mum did the ordering. Since, it has an outdoor kitchen, we had to walk by the kitchen before reaching the seating area. You can pick and choose your own fish and vegetables, which my mum did. Their specialty item is grilled fish, which we had. My mum also ordered some spicy clams and stir-fried kang kong (I don't know what this vegetable is called in English. I think it might be … water spinach?).
BEFORE
AFTER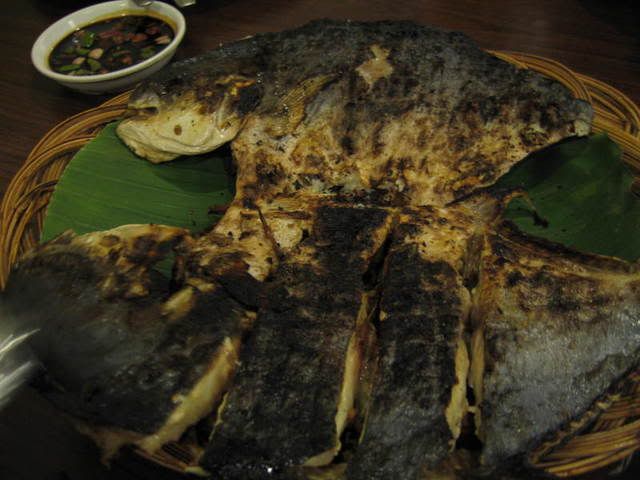 Being a fish retard (I can only identify salmon, tuna and bass by sight), again, I don't know or recall what kind of fish it was but it sure tasted good. It was served with belacan, a shrimpy chili paste, of which we had the original belacan and a mango belacan. The original belacan has a deliciously overpowering spicy taste that is perfect with the mild, flaky grilled fish. The mangi belacan is less pungent and sweeter, also nice with the fish. The chili clams were also yummy. The clam shells were perfect to hold some of the spicy broth that they were cooked in so that when slurping down the clam, you'd also get a taste of the spicy broth.
The kang kong was also spicy and delicious. It wasn't overly soft and it still retained a little bit of its crispiness. The kang kong leaves also absorbed a lot of the chili broth that it was cooked in.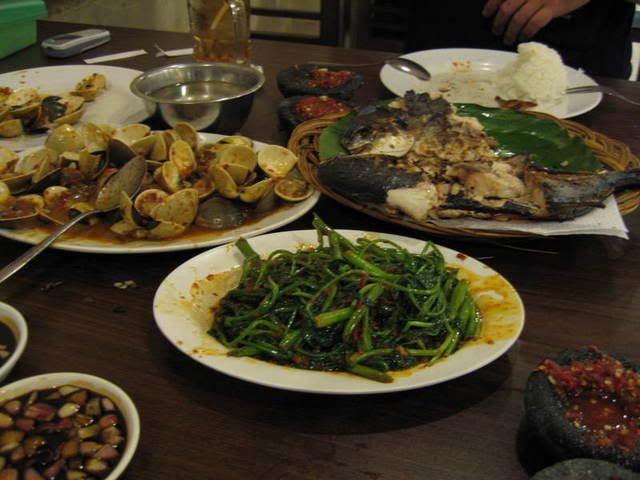 Even after all that culinary debauchery in Jakarta, I just couldn't pass up an opportunity to eat in Singapore when I was just transiting for one night. I spent my early till late teens in Singapore and the one thing I missed the most was "yong tau foo", a tofu noodle soup. I especially adored one hawker stall on the basement level of Takashimaya, a shopping mall in the heart of Orchard Road, Singapore's main shopping district. I loved it because anyone could literally pick out the fillings he/she wanted to go into the soup and they offered such a huge variety of them, ranging from meatballs, shrimp balls, fried tofu, an assortment of vegetables, wontons, fish pastes and mushrooms, etc. You then hand over the bowl full of goodies to the person behind the counter, after which, he will cut the goodies in to small, bite-size pieces before plunging them all in hot boiling broth along with noodles of your choice (egg, rice or glass noodles). Additional toppings include green onion, fried shallot and the divine home-made chili sauce.
My favorite item of the "yong tau foo", a special tofu flown in from Japan. It is pretty firm and is quite chewy with a slightly sweet taste to it.
As you can imagine, after two weeks of being spoiled with delicious Indonesian food, I am experiencing withdrawal symptoms from it and I'm still squirting the Indonesian chili sauce (that I smuggled back) on everything. I really miss the food, but here's the reason I miss it even more …
... only the cutest, most adorable, most huggable nephew in the whole wide world!