Boston is one of my most beloved cities. I was pushed by my family to go there for college because there is a large Indonesian population there. Being the rebel that I was, I chose not to. I don't regret that decision and I've been fortunate enough to visit Boston because my cousins and sister are there. I especially love Boston's food! When I visit Boston, I always try my best to eat as much seafood as I can due to the lack of good seafood here in Chicago.
So, anyways, I went to Boston over Easter weekend to hang out with the sister and here are some of the places we went to. I had French-style macarrons for the very first time at a little chocolatier named Burdick near Harvard. I fell in love instantly! I've read a lot about how delicate and delicious and irresistible they are on a favorite blog of mine but I've never had them! Imagine that! Anyways, thanks to my sis' adventures, she got wind of this exquisite little place and brought me there. The store front is very charming and quaint, with a green-and-white striped awning and glass window and door.
The cafe/chocolatier itself occupies a very small space inside supposedly because most of the store space is used for chocolate-making. My sister ordered their specialty thick drinking chocolate and macarrons while I wanted to try out some of their chocolates. Although their chocolates are just ok, the macarrons were to-die-for! We had the raspberry, lavender and pistachio-flavored ones. The lavender and pistachio macarrons were exquisite while the raspberry is rather "common" if you will. But their texture was perfect: crunchy on the outside with a chewy, even creamy, middle.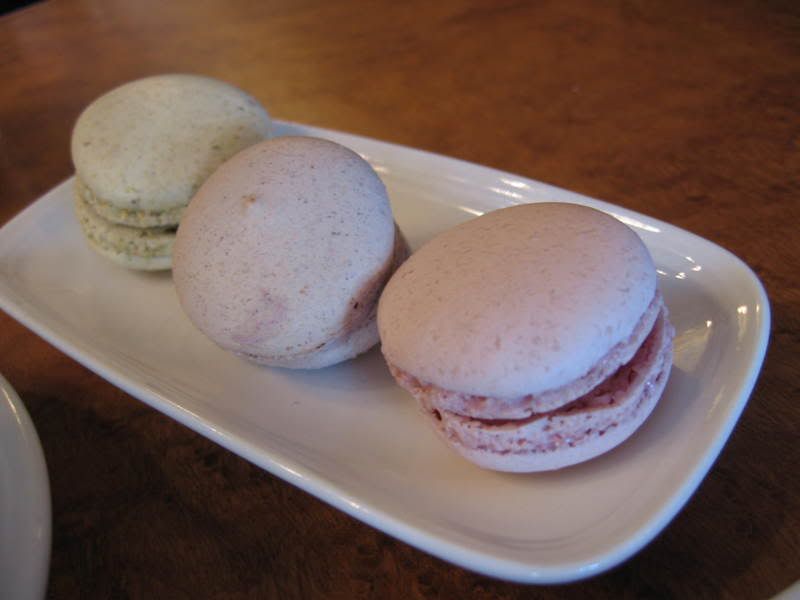 I made the mistake of not getting more of these macarrons to bring home. We first went to Burdick on Thursday and thought that if I bought them then, they wouldn't be good any more by Sunday. So my sis said that we could go again on Sunday, right before I leave for Chicago. We trekked down to Burdick on Sunday afternoon, only to find out that they're closed for Easter. *SIGH*
Since my sis had a pretty long weekend (her school is Catholic so they celebrate Easter), she came up with the idea of taking a mini road trip to one of her favorite patissiers in Providence. I thought it was rather silly to drive all the way to Providence for dessert, but I relented. She brought me to Pastiche, a little charming bakery/patissier in Providence's Little Italy neighbourhood. The store front is pretty and the interior is very cozy.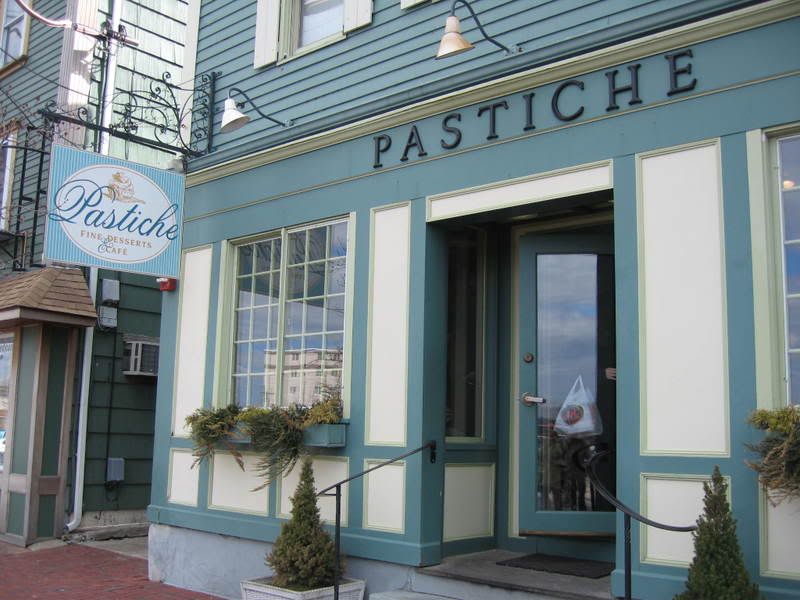 Pastiche had quite a large selection of pastries and coffees; from cheesecake to rugelach. I'm starting to salivate just thinking of their beautiful and delicious creations. My sis decided to get a slice of their fruit tart and I craved for something chocolatey so I got a slice of the chocolate gateau. My chocolate cake with raspberry sauce was sooo good! It's super chocolatey, moist and rich, which hit the spot for me!
My sis had always been raving about how she couldn't get a fruit tart like Pastiche's in Boston. I tried a bite and agreed that the custard layer was really yummy and I loved the freshness of the fruit but the crust wasn't quite there. The crust was a tad dry and tasteless. But isn't it just so pretty?
After our delicious lunch (yes, that was our lunch), I wanted to walk around the neoughbourhood since I had never been there before. We stumbled upon a large Italian grocer, Costantino's. The smell that hit us when we entered was of cured meat, cheeses, garlic (I luuurve garlic) and olives. The store was super clean and super crowded. They sold everything from olive oils and espresso pots to pre-made stuff like lasagna, tiramisu and meats. There were also tables in the store for those who want to eat there. I was in heaven, except that we were already full and couldn't eat any more. I managed to sneak in a picture of their deli counter before a staff told me not to *oops* Maybe I'm just being sensitive but in Providence, I didn't feel very welcome. Maybe it's just an East Coast thing.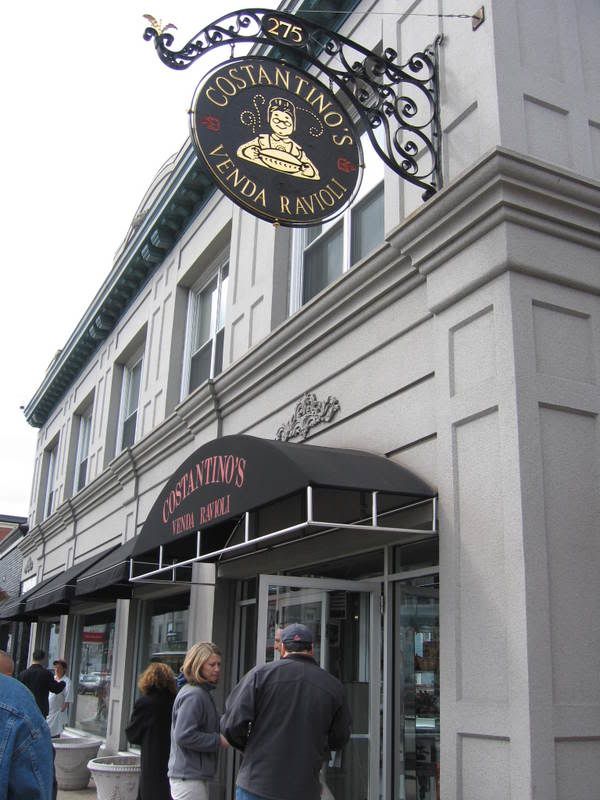 Back in Boston, we went to one of my (and my parents') favorite spots, Shabu Zen. It's a Japanese-style hot pot place in the heart of Boston's Chinatown. Shabu shabu is an Asian do-it-yourself "cooking style" where each person on the table cooks his/her own food by dipping it into a boiling pot of broth. It's kinda like the more familliar Korean bbq, except with boiling broth instead of a grill. It's plenty of fun doing this with friends and family and you get to pick and choose your own food. A unique thing about Shabu Zen is that they also have a DIY system for your dipping sauce. They supply 4 different ingredients to add to your soy sauce: minced garlic, chopped scallions, chili flakes and a spicy paste thingy that I don't know the exact name for. You mix whichever ones you want in whatever amount you want. Ta-daaah! Individualized dipping sauce! I usually just dump everything that's given to me into the medium-sized bowl and ask for more garlic. I cannot get enough of garlic!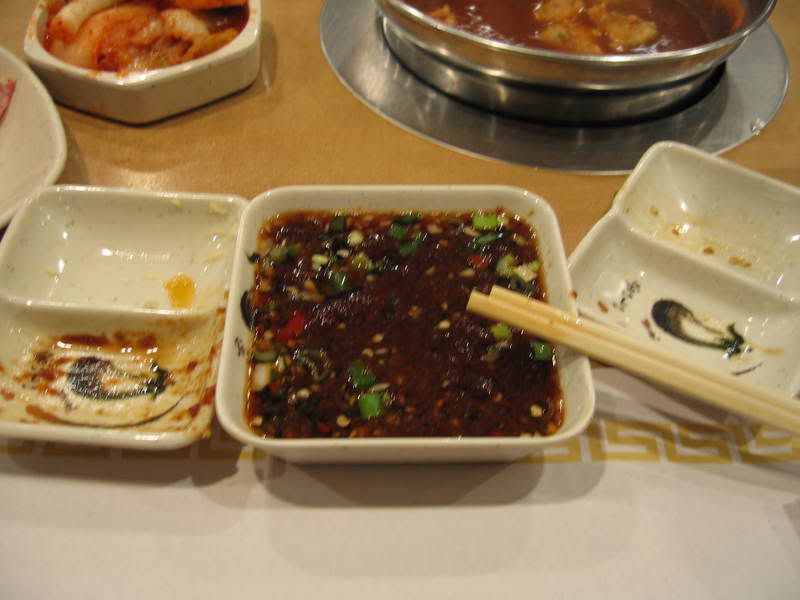 The other cool thing about Shabu Zen is that they have a few different varieties of broth that you can choose to cook your food in besides the normal chicken broth. My family and I always pick the kim chee broth because we love spicy stuff! Other offerings include some mushroom broth or a ginseng thingy (Ewww). But anyway, they were kind enough to bring some kim chee to start off because by the time we were finally seated, we were famished! This place is so popular, especially on weekends, that the wait can be rather long! The bad thing is, they don't accept reservations.
The things we ordered included enoki mushroom (yum!), beef tongue (sounds gross but is quite delish), assorted tofu, baby bok choy and fish paste (our absolute favorite!). I'm not really sure what fish really is but it's probably a mush of fish, starches and water to form a paste. The paste is then portioned into tablespoon-sized "balls" to be boiled. It's very chewy and has a very nice un-fishy flavor.
Another Asian place we went to is Dok Bua, a Chinese-Vietnamese restaurant in Brookline, the neighbourhood that my sis used to live in. It's a very cozy restaurant with a rather odd decor that consists of murky aquariums with some fish in them, a tiki-like bar section and a mini mart-like section by the cashier selling random Vietnamese snacks and spices. This place is also one of my family's favorites because their cooking is quite similar to Indonesian cooking. We started with the tofu soup that was highly recommended by my sis and it provided us with a tasty warm counterpoint to the cold weather.
My sis recently found out that she likes Vietnamese summer rolls. She used to only like the deep-fried spring rolls so I was quite surprised at her conversion. The summer rolls at Dok Bua were very refreshing, what with the lemongrass, veggies and rice wrapper. Summer rolls are quite bland so the nutty, spicy dipping sauce that came with is gave it a nice flavor.
Dok Bua apparently had been pretty renowned for their pad se eu. They supposedly have the very best in Boston, so we decided to go with that, in addition to a beef and veggie stir fry dish. Both were very yummy: the pad se eu was glistening with oil but was very well-spiced and the beef was awesome. They gave so much meat!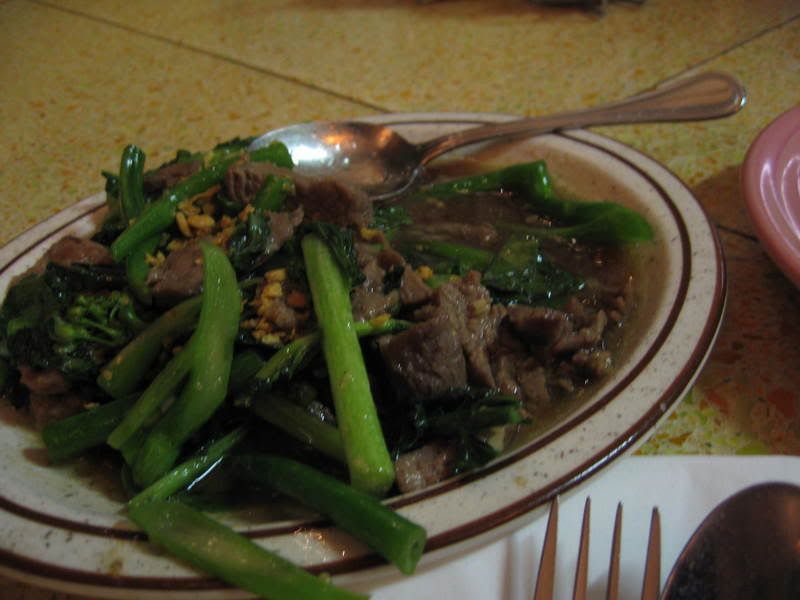 As I mentioned, I'm a bit of a seafood fanatic, so whenever I visit my sis in Boston, we always have to have sushi at least once! One of our most beloved Japanese places is New Ginza, a Jap restaurant right next to my sis' apartment building! Can you imagine that? If I lived right next to a good Jap restaurant, I'd probably eat there or order take-out 5 times a week! But anyway, despite being owned and operated by Chinese people, it's a great Japanese restaurant. It's very clean, the service is always very good and the food ... ohhhh ... the food is just amazing! There's this broiled mayo-scallop dish that my father loves but I always start off with a humongous pile of seaweed salad! Can you imagine getting such a big serving of seaweed for less than $4?!?!? In Chicago, for $4, I'd probably get a pile of iceberg lettuce that has been concealed with a thin layer of seaweed!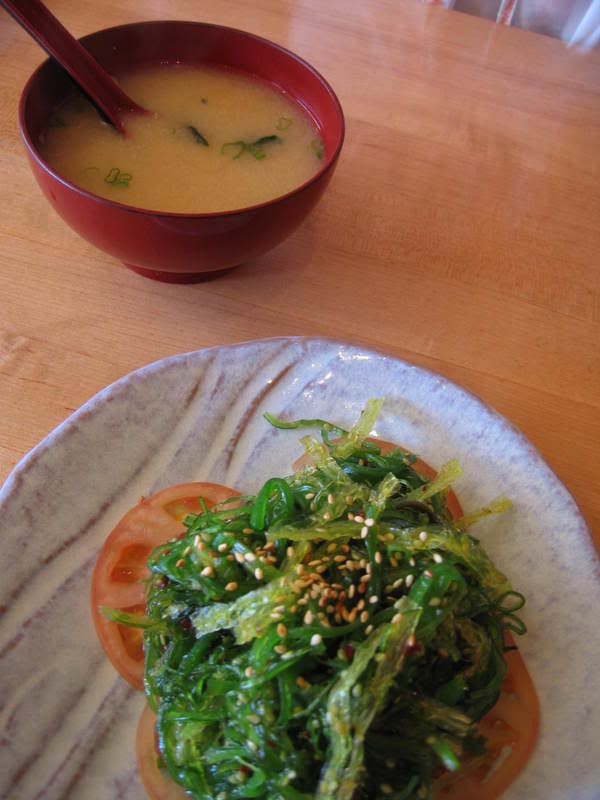 I then had 3 fat pieces of heavenly salmon sashimi and my sis had their eel-avocado roll.
My trips to Boston are always great. Not only do I get to see and hang out with my dear sis, the food scene there is great! There are many other places we missed that weekend (yes, we missed at least another handful of good restaurants), which I hope to eat at when I'm there again (which is not too far away because my sis is graduating in less than a month!). Yay!